Semi-automatic Beam Saw
Product Detail
Product Tags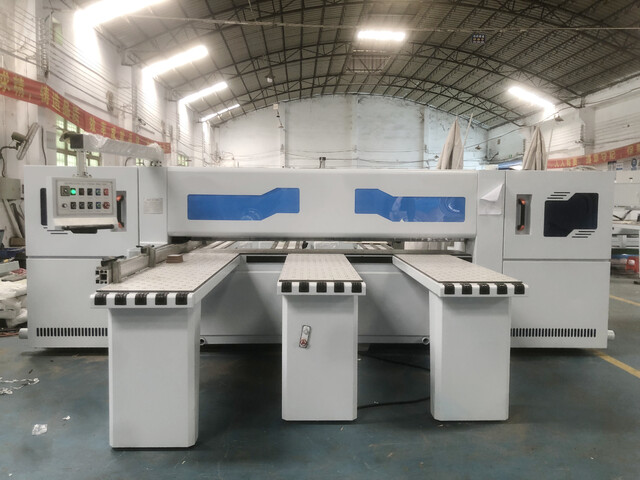 This type of beam saw is not assembled with a computer, but It can cut multiple layers at one time, and both horizontal cutting and vertical cutting can be realized. Workers only need to load and unload materials. This operation is safer, and at the same time, it reduces the labor intensity. The operation does not need a technician. Ordinary workers can also operate, which greatly improves the work efficiency.
● The machine uses a high servo system to control the feeding accuracy, and the electronic ruler performs accuracy compensation.
● The precision guide rail of the machine ensures the saw running smoothly and straightly and no need to adjust the machine again
● The beam saw has electronic speed regulation function, which can cut at different speeds for different materials
● Multi stage swing adjustment simulates the user moving the saw blade up and down during cutting, making the user faster and labor-saving when cutting materials
● This semi-automatic beam saw can cut more pcs of panels once. Compare with sliding table saw, it works more safely and efficiently.
| | | |
| --- | --- | --- |
| Model | BGJX1327-B | BGJX1333-B |
| Max. cutting length | 2680mm | 3280mm |
| Max. cutting thickness | 75mm | 75mm |
| Diameter of Main saw blade | 350mm | 350mm |
| Diameter of main saw spindle | 30mm | 30mm |
| Rotary speed of Main saw | 4800rpm | 4800rpm |
| Diameter of grooving saw blade | 180mm | 180mm |
| Diameter of grooving saw spindle | 25.4mm | 25.4mm |
| Rotate speed of grooving saw blade | 6500rpm | 5900rpm |
| Feeding speed | 0-30m/min | 0-60m/min |
| Total power | 12.5kw | 15.5kw |
| Overall size | 5360X3650X1670mm | 59500X3600X1700mm |
| Weight | 2300kg | 2700kg |
---
---